Deniro Riding Boots Since 1981
Deniro World Class Boots
CLICK LINKS BELOW TO SEARCH PRODUCTS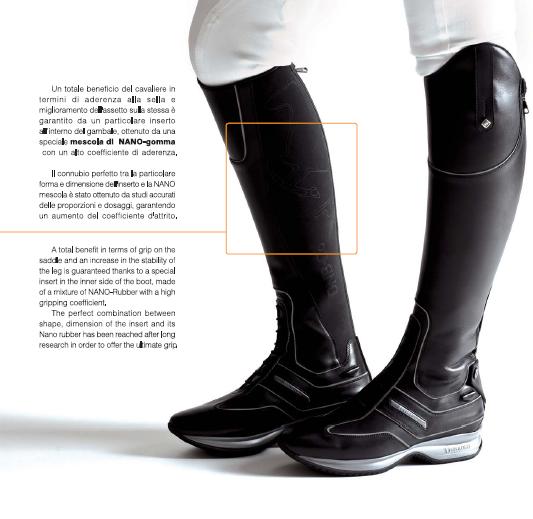 De Niro Boots are known as synonym of quality, attention to the details, innovation, style and research in the equestrian field. A great vocation for research and innovation are the main characteristics which has led De Niro Boots to establish its own leadership all over the equestrian world in both dressage and jumping circuits. Deniro's Boot production is entirely made in the factory located near the town of Lecce, in South Italy, where all the Deniro Boots are worked according to a handcrafted process and the boots are subjected to a rigorous quality check control.
Allow for 8-12 weeks for custom
HorseSmart offers you Collections of top equestrian brands like Tolga Saddlery, Tolga Bridles, Deniro Riding Boots, Riding Tall Boots, Wildkart Horse 'Jin' Stirrups, Las Equestrian Riding Helmets, Kinglsland Jackets, Dimacci Equestrian Jewelry, Leovet Horse Health Care, Sarm Hippique Show Coats and Show Shirts, Urad Leather Care, Wilker's Saddle Pads, StableMates Horse Grooming, SaddleRight Orthopedic Pads, Pharmaka Horse Products, Neumann Riding Gloves, Le Fash Show Shirts, Gersemi Equine Fashion, Hawthorne Horse Products, Finish Line Horse Products, Equifit Horse Boots, Equifit Horse Products, Equerry Horse Brushes, Edward Goddard Whips, Davis Horse Boots, Andis Horse Clippers. If you are looking for Show attire, we have the full Le Fash and Sarm Hiippique lines of shirts as well as show jackets at great price points. Equestrian footwear premier brands like Deniro Boots affordable footwear and the the perfect riding boots for you.
HorseSmart Tack and Apparel has all your needs for the lady, man & young rider. Enjoy your shopping with us.